Thursday, April 28, 2005
Marvel-ous
Variety reports that Paramount Pictures has landed an exclusive deal with Marvel to distribute films of the remaining Marvel characters who have yet to hit the big-screen. Among the first to get the feature film treatment will be Captain America and Nick Fury.
How cool is this guy?:
When they do Nick Fury, will they have the courage in this oh-so-PC age to go with the cigar?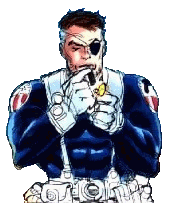 If they don't, it won't really be Nick Fury.
9 Comments:
By

Charlottesvillain, at Thu Apr 28, 03:48:00 PM:
Awesome. I wonder how far they will go with the Cap origin, a supersoldier created by the government to fight the Nazis. (His longevity explained by the fact that he was frozen in a block of ice in the 1940s, thawing only after Namor, the Savage Sub-Mariner, threw him into the ocean where his thawing body was discoverd by the Avengers!) The Red Skull would be the obvious arch fiend in the first Cap movie, although I hope there is room for an appearance by Batroc the Leaper (a French villain). Oh the possibilities.

You are correct about Nick Fury and his cigar. I hope they get to Iron Man as well.
By

Screwy Hoolie, at Thu Apr 28, 06:25:00 PM:
O/T, but I can't wait.

Stop me if you've heard this one:

When Osama bin Laden died, he was met at the Pearly Gates by George Washington, who slapped him across the face and yelled, "How dare you try to destroy the nation I helped conceive."

Patrick Henry approached, punched him in the nose and shouted, "You wanted to end our liberties but you failed."

James Madison followed, kicked him in the groin and said, "This is why I allowed our government to provide for the common defense!"

Thomas Jefferson was next, beat Osama with a long cane and snarled, "It was evil men like you who inspired me to write the Declaration of Independence."

The beatings and thrashings continued as George Mason, James Monroe and 66 other early Americans unleashed their anger on the terrorist leader.

As Osama lay bleeding and in pain, an Angel appeared. Bin Laden wept and said, "This is not what you promised me."

The Angel replied, "I told you there would be 72 Virginians waiting for you in Heaven. What did you think I said?"
By

TigerHawk, at Thu Apr 28, 09:46:00 PM:
Screwy, I not only have heard that joke, I blogged it! Last July. That must have been before you became such a loyal TigerHawk reader! :)
By

MAJ C, at Fri Apr 29, 12:53:00 AM:
I read somewhere that Captain America is now a black man.

Here it is http://www.nydailynews.com/entertainment/story/36556p-34505c.html
By

Screwy Hoolie, at Fri Apr 29, 10:09:00 AM:
I should have known that I'd be almost a year behind the A.Q. jokes curve.

Loyal? You bet. You're my favorite non-lefty. Keep up the solid work!
By

RPD, at Fri Apr 29, 11:51:00 AM:
I wonder if Reb Brown and David Hasselhoff are available?

As for messing with Cap's origin, how will it be affected by the current controversy over steroids? What else could the supersoldier formula be?

Will Nick Fury still be a WW2 vet and former Howling Commando, on life extension drugs?

Still, the SHIELD helicarrier ought to be cool.
By

122272, at Sat Oct 08, 03:42:00 PM:
Interesting blog you have here, I landed here on accident. I was searcing for something else and came across your site. I found it pretty interesting and entertaining. I got you book marked.

I will pop back in from time to time to see what you have new here.

My site is a bit different than yours, but just as entertaining and educational, I run a penis enlargement reviews related site pertaining to penis enlargement reviews related articles.
By

Anonymous, at Thu Nov 06, 04:38:00 AM:
We specialize in laptop battery,laptop AC adapters. All our products are brand new, with the excellent service from our laptop battery of customer service team.
the most convenient and cheap replacement battery online shop in uk. We specialize in laptop batteries,laptop AC adapters.
All our laptop AC adapters are brand new, with the excellent service from our customer service team.
the most convenient and cheap battery online shop in uk.
By

Anonymous, at Sat Nov 08, 09:59:00 PM:
lapel pins manufacturer
lapel pins
MP3 Players
custom lapel pins, badge pins
lapel pins
Silk flower
Metal Badges
Bottle Openers
Wine-Bottle Openers
Zinc Alloy Bottle Openers
Aluminum Bottle Openers
Stainless Bottle Openers
Dog tags
Medals
key chains
trading pin
Flag Lapel Pins
Flag Lapel Pins
Printing Pins
Printing Badges
Die Struck Pins
Police Badge
Military Badge
School Badge
Buckles
Coin
MP3-MP4
MP4 Player Wholesale
USB Flash Driver
Digital Photo Frame
Memory Card
Pen USB Flash Driver
Silk flower
Silk flower
MP3-MP4
MP3 Player Wholesale
MP4 Player Wholesale
USB Flash Driver
trading pin
Better Finish Lapel Pin
Printing Badges
电脑外设
电脑周边
电脑周边批发
电脑外设批发
电脑配件批发
摄像头批发
U盘批发
鼠标批发
mp3mp4批发
饰品批发
水晶饰品批发
小饰品批发
韩国饰品批发
925银饰
情侣饰品批发
银饰批发
925银饰批发
流行饰品批发
珠宝首饰批发
泰银批发
小商品批发